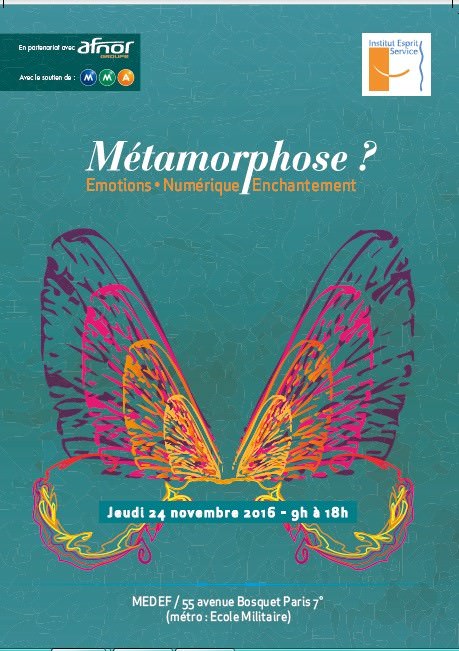 By.O Group* and Institut Esprit Service invite you to participate in a new day of discussions on Thursday, November 24th 2016 (from 9 am to 6 pm) at MEDEF site, entitled "Metamorphosis? Emotions Numeric Enchantment ".
More than 40 witnesses (Entrepreneurs, members of executive committees, experts, academic institutions) will share feedbacks related to companies' massive changes.
Find all topics downloading the program:
Metamorphosis? Emotions Digital Enchantment
USEFUL INFORMATION:
Registration is mandatory and free, for half day or full day, open until Tuesday, November 22th 2016.
Download the registration form
Date: Thursday, November 24th 2016 – from 9 am to 6 pm
Location: 55 avenue Bosquet Paris 7e
Subway: Ecole Militaire
By.O Group & Cymbi.O chair the Commission "Services and New Business Models" and "Partnerships of Institut Esprit Service.